Bowfishing
$200 per person minimum of 4, max of 6 fishermen per boat
Multiple boats available
Includes all equipment and fuel for 4-5 hour trips
Fish cleaning included with lodging/ fishing package
Our bowfishing airboats are custom built with full decking and lighting surrounding the perimeter of airboat for easy visual ability for our clients. Our high-powered airboats will give you the thrill ride to each fishing location, never having a dull moment. This adventure leaves the dock at sunset and starts with a short demonstration about our equipment and safety tips. We primarily fish redfish, but also target black drum, alligator gar, sheephead, flounder, stingrays, and catfish. Our captains will spot fish, and deckhand will help with anything you may need. Make sure to bring a Louisiana Fishing License, drinks, snacks, rain gear (depending on weather), and a ice chest for fish.
$300 per night for 4 people
$50 each additional person
$75 one time cleaning fee
Our elevated waterfront camp/lodge is 4 bedrooms, 3 full baths, full kitchen and sleeps 12-16 people. (12 in separate beds). Fully furnished inside and out,  for the ultimate experience to accompany your adventure! Learn more. 
Rod n' Reel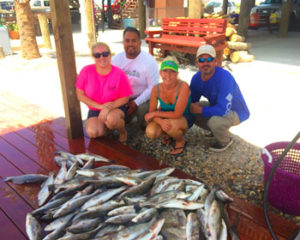 1-2 persons      $700
3 person            $800
4 person            $950
Let our local guides take you where they were born and raised from all over the Delta, through the shallow waters of the bayous to the Mississippi river, or the Louisiana's beautiful barrier islands.
We will leave the dock at safe light traveling through the wetlands to the fishing hole. You will see numerous species of birds, raccoons, alligators, nutria, otters, ducks, and many other critters. While enjoying the ride, soon you will arrive at the spot, where our Captain will get you set up on some fishing action. Some of our catches include Redfish, Speckled Trout, Black Drum, Flounder, Sheephead, and Catfish.
Includes: Ice, fuel, rod n reels, bait (live or dead), tackle, fish cleaning, bag lunch, and drinks (water, coke, diet coke, sprite)
THINGS I RECOMMEND YOU BRING: Camera, sun block, sun glasses, hat, ice chest for cleaned fish, and beer or wine coolers if you choose.
EVENING FISHING TRIPS ARE ALSO AVAILABLE
NIGHT FISHING TRIPS ARE SEASONAL
BULL RED EVENING TRIP
Leave the dock in the evening and head straight to the barrier islands.
$500 for 3 hours
Up to 3 persons per boat
Sportsman Getaway
Arrive at the camp after lunch around 3pm. Supper will be provided that evening as well as a breakfast the next morning and a bag lunch. Our Guides will cater to you on whatever package trips you choose.
Includes: 1 night private lodging, meals, Licensed Guide, 2 chartered trips of your choice, drinks, and fish cleaning.
SEAFOOD BOILS EXTRA
PRICES IS BASED ON A 3 PERSON MINIMUM
$750 Per Person
TRIP CHOICES
Bowfishing
Rod n Reel fishing
Kayak Fishing
Bull Red Trip (Seasonal)
Duck Hunt (seasonal)
Night Rod n Reel fishing
Crabbing
Shrimping (seasonal)
Hog Hunt (may require additional fees)
Frogging (seasonal)
Additional Packages:
DUCK HUNTS
Guided duck hunt:  $250 per person
2 person minimum
Ducks cleaned at $4.00 per duck
KAYAK FISHING
$225 per person, minimum of 2 persons
Includes guide, kayak and all equipment
HOG HUNTS
*$1000 per airboat. up to 2 hunters (Multiple boats available)